I am Hell's Customer Service.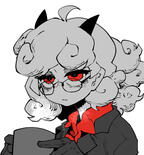 ---
how may i serve you?
---
pixel art creds: King-Lulu-Deer on deviantart

about me


name:

sheep


age:

17


mbti:

infj-t


enneagram:

6w9

♡

☼ cancer, ↑ virgo, ☾ gemini

♡




♡

sleepy girl

♡

coffee fanatic

♡

sweets lover

♡




♡

certified kinnie

♡

gAmEr GrL

♡

wannabe punk chick

♡




hey hey! it's me, sheep, ur friendly neighborhood chocolate milk lover n sweets fanatic! you'll find me sketching girls and playing tf2 in my free time! i'm a musician and i am going to pursue music, as it is my passion! my bday is june 27 (don't forget it!!) and i luuuuv the warm weather!
---

kins & comfort characters


i am friends > kins and i don't care abt doubles for any of them. usually my cs is my pfp
IDS


miu iruma, stocking anarchy, pandemonica
high kins


you watanabe, kanata konoe, princess zelda, chihiro fujisaki
low kins


kotori minami, filia
comfort characters


shuichi saihara, kiibo, modeus, link, riamu yumemi, yoshiko tsushima, kanan matsuura
---

do not interact

please do not interact if...
- general dni criteria (homophobic, racist, transphobic, etc.)
- if u don't support blm or acab
- if you're a pedophile. fuck you
- if you're DDLG, ABDL, CGL(RE), AGERE or anything like that
- if you're the weird stalker girl who's been looking at my profiles. pls go away i know you're still looking at my social media.
- if ur one of those soft girls. you guys are so fucking annoying and you thrive off cancelling each other.
- kink accs, minor in kink, nsfw accs, etc. exclusively nsfw accs can follow on a sfw acc tho
---
before you follow, you should know...
- i'm a minor. please don't be fucking weird towards me if you're an adult.
- i'm not an aesthetic acc. i spam sometimes
- agere makes me uncomfy. if you are agere on a non-agere acc, don't talk about it to me directly.
- im a very sexual person. i don't post it on my acc, but i sometimes talk about it. if that makes u uncomfy, please let me know when you send the pass.
---
why don't you serve me instead and get me a coffee. don't fuck it up.
pass:☕️